Let's Get to Work
Black and white photography is amazing at bringing a classic style, elegance or even an edgy raw look to your images. With all the technology and innovation of photography, the black and white portrait and head shots still remains a firm favourite as the primary calling card of actors and models. Stunning black and white portrait images take a little bit of planning both as the model and the photographer. With the absence of colour to draw attention and add dimension to the image, we need to use other methods. Here are a few ideas to consider for your next shoot to make a black and white impact shot.

Here is what we will look at today;
1. Planning
2. Composition
3. Tonal Contrast
4. Texture
5.Emotion
1. Planning: Shoot with Black and White in Mind.
You cannot save a bad shot just by making it black and white. If you are intentional in creating a black and white image, then plan the location, backdrop, lighting and fashion accordingly. Keep in mind that your lighting will add highlights, shadows, and silhouettes to the image which is very powerful. Keep your lighting in mind whilst you read about tonal contrast ant texture. You may need to practice your set-ups to figure out how to illuminate some materials and textures.
2. Composition is king.

Use all your composition skills to the max. Without the colour to carry the image the composition needs to be spot on. Remember achieve balance, be aware of patterns and symmetry. Are you using lead in lines, rule of thirds, golden ratio. Pay attention to framing and create a focus. Simplicity is very important compositional element. Consciously consider how you can simplify your composition and remove distraction from your image. Only include elements that enhance and ensure they do not distract attention from the subject.
3. Tonal Contrast.

Being able to see tonal contrast in an image can be difficult if you are new to black and white. You can be fooled by the colour contrast and not the tonal contrast. You can practice with your DSLR on monochrome setting if you are shooting in RAW so you do not loose the colour version of the file. Sticking to hard contrasts, like black dress white background and vice versa can be good to start shooting.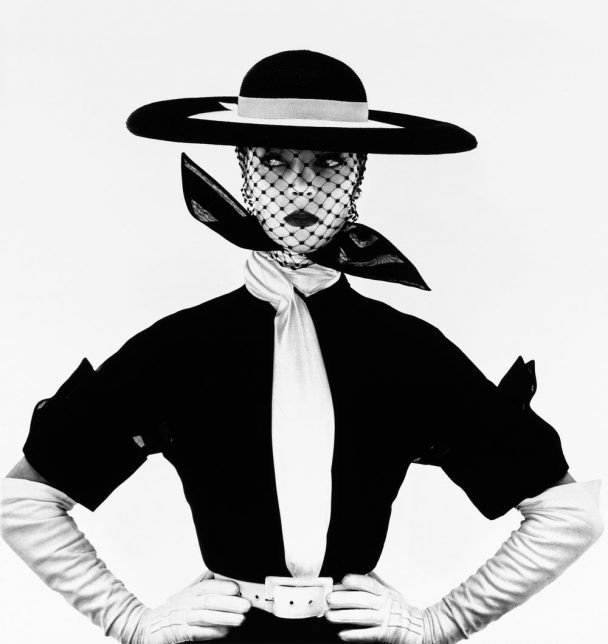 Irving Penn, Black and White Vogue Cover (Jean Patchett), New York, 1950
As you develop your eye for tonal contrast, you can start to work with a full dynamic range in black and white and still get tonal contrast. I appreciate that the last sentence sounds confusing. Let me explain. When you look at an Ansel Adams image, you can see that there is tonal contrast in the image. The white of a rock face against the dark sky. The black tree trunk against the rock. However, Ansel is showing you a full dynamic range from the whitest white to the blackest black but he understood that the lighting, and his post processing provided tonal contrast to the scene. Is this possible in portrait work? Absolutely.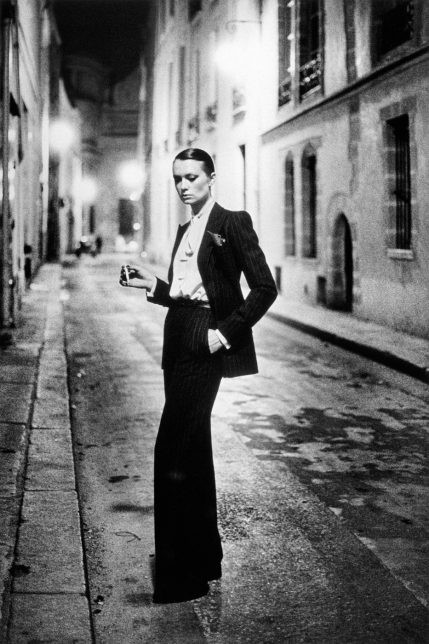 Helmut Newton, Rue Aubriot, 1975 (model is Actress Vibeke Knudsen)
Here you can see the full dynamic range in Helmut's shot. From black to white with every shade of grey in between. Notice how the black of the suit is framed by the white of the light on the building and the reflection from the wet road. The models blouse is contrasted by the black of the suit. The models right arm is extended and both the left and right side of the black jacket is visible. Seeing the right side of the jacket is important to stop the white blouse from blending into the buildings behind. Typically a male model pose of the time, but see how the models hand in the pocket makes the space between the elbow and torso. This negative space is also a tonal contrast in the shot and emphasizes the slim line of the jacket.
Rue Aubriot looks like a simple shot at first glance. That was part of our composition in point 2 above was for simplicity. This shot was planned, point 1, and shot more than once to get the look and style that Helmut wanted. He knew this location well as he used to live near here so we can assume that either consciously or subconsciously had been planning this shot for some time. Also in the shot is the use of texture which brings us to point 4.

4. Texture.

As with tonal contrast, we would be more correct in thinking textural contrast. How we place one texture next to another is important as we are not relying on the colour to give us that interest in the image. For the backdrop, this might be rough stone or tree bark next to smooth skin. We can also consider texture in clothes. If we think about the Hollywood glamour shots by photographers such as George Hurrell and Clarence Sinclair Bull we can see how some images incorporated texture. Use of fur, feathers, silk or satin. Felt hats with leather, silk scarves and tiaras. However you incorporate texture, just remember our composition rules and simplicity. Do not go over the top, keep it subtle and purposeful. It must serve a purpose to enhance the model and not be a distraction.
5. Emotion.
I have added emotion to the list as it is important for a lot of photography in general not just black and white. However, I really only wanted to make a point here as the emotion can be from the subject or from the viewer. From the subject is obvious. The model is laughing, crying, displaying fear, anger, surprise and so on.
If we look back at Helmut Newton's Rue Aubriot once more, what is the emotion from the model? Back when this was published in 1975 women wearing pants, let alone a 'mans' style suit was a bit controversial. The androgynous look of the model with the slicked back hair wearing a suit smoking a cigarette was pretty risqué. There is no emotional expression from the model. The emotion is provided by the viewer. Viewers were said to describe this image at the time as liberating, emancipation, empowering and overtly sexual. As this was really to sell Yves Saint Laurent's suit 'Le Smoking' to women, the image is sexy and empowering to women. More so then than now.

The message here is to have some emotional content and remember that emotional expression does not have to come from the subject model but can evoke an emotion from the viewer.

Finally, I hope that this has given you something to think about and stirred something in you to work at your content. I have tried to make the post general enough not to stifle your own creativity but to get you to work on your list. Whether you are a photographer or a model I think that a little bit of knowledge and leaving a spark of thought in your brain then this has been a success. Break over, go and shoot some content :-)

If you have any comments, thoughts or concerns just get in touch.