Today we had a double celebrity photoshoot in the studio. Despite the current situation with the COVID-19 pandemic we pulled together a shoot at last minute at a secret studio location in Toronto.
First up was Dick Grayson known to all of us simply as Robin. As part of the dynamic duo, Robin was quick to point out how confident he was with how Canada was hunkering down to combat the situation. So confident in fact, today he had refused to wear his mask to the shoot. We did not think it was polite to point out that his mask did not cover his nose and mouth anyway.

I decided that the white seamless paper and a large key light would be a great setup to bring out the contrast in the shot.  I pulled out a vee flat and Alex used a silver reflector to fill shadow and bring some wrap around light into the shot.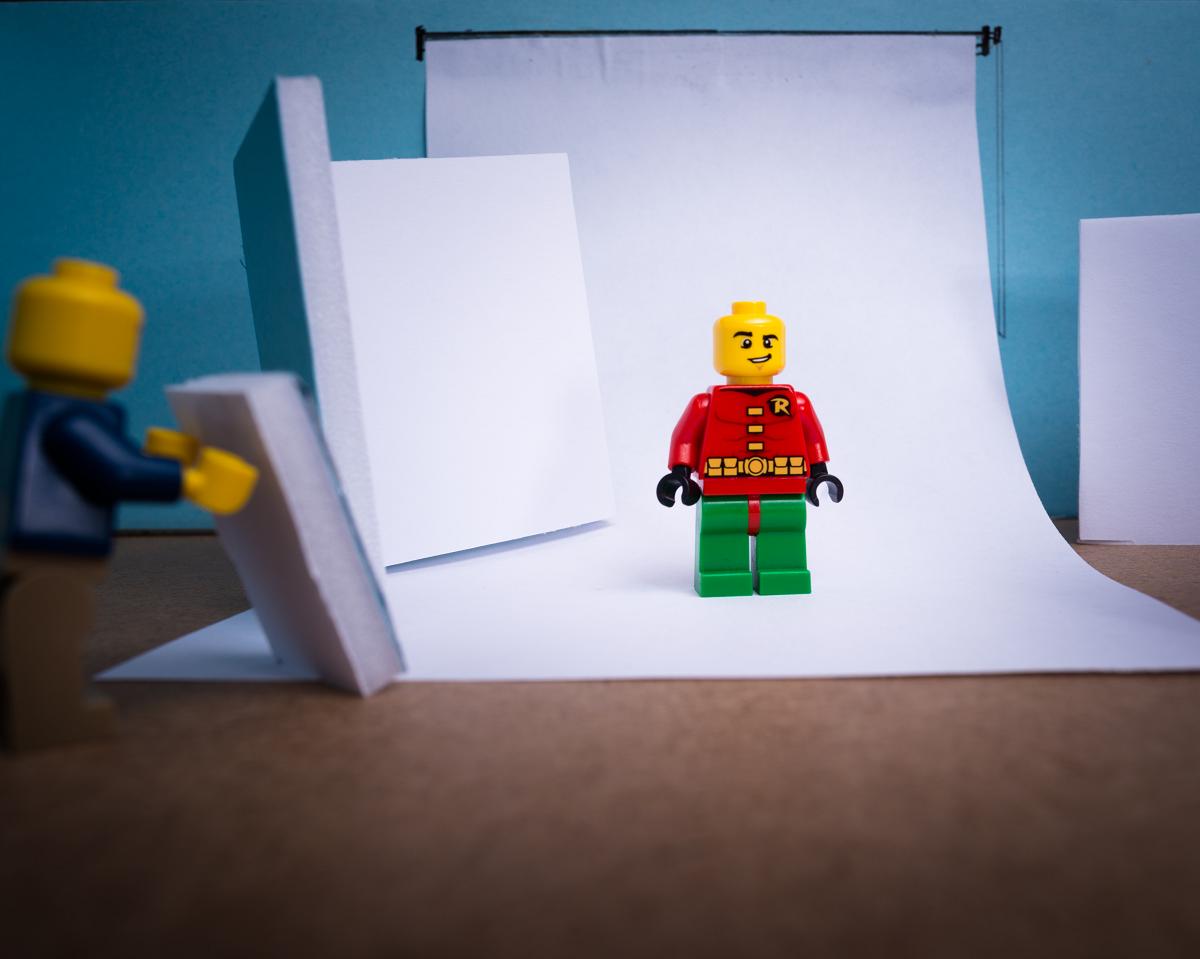 The single light setup was creating some undesirable shadow under the chin but I could not get Robin to lift his chin up.   
To eliminate the harsh shadow, the light was moved closer because we all know, the larger the light source, relative to the size of the subject, the softer the light. The vee flat was re-positioned to add more fill and the reflector was used to bounce some light into the background.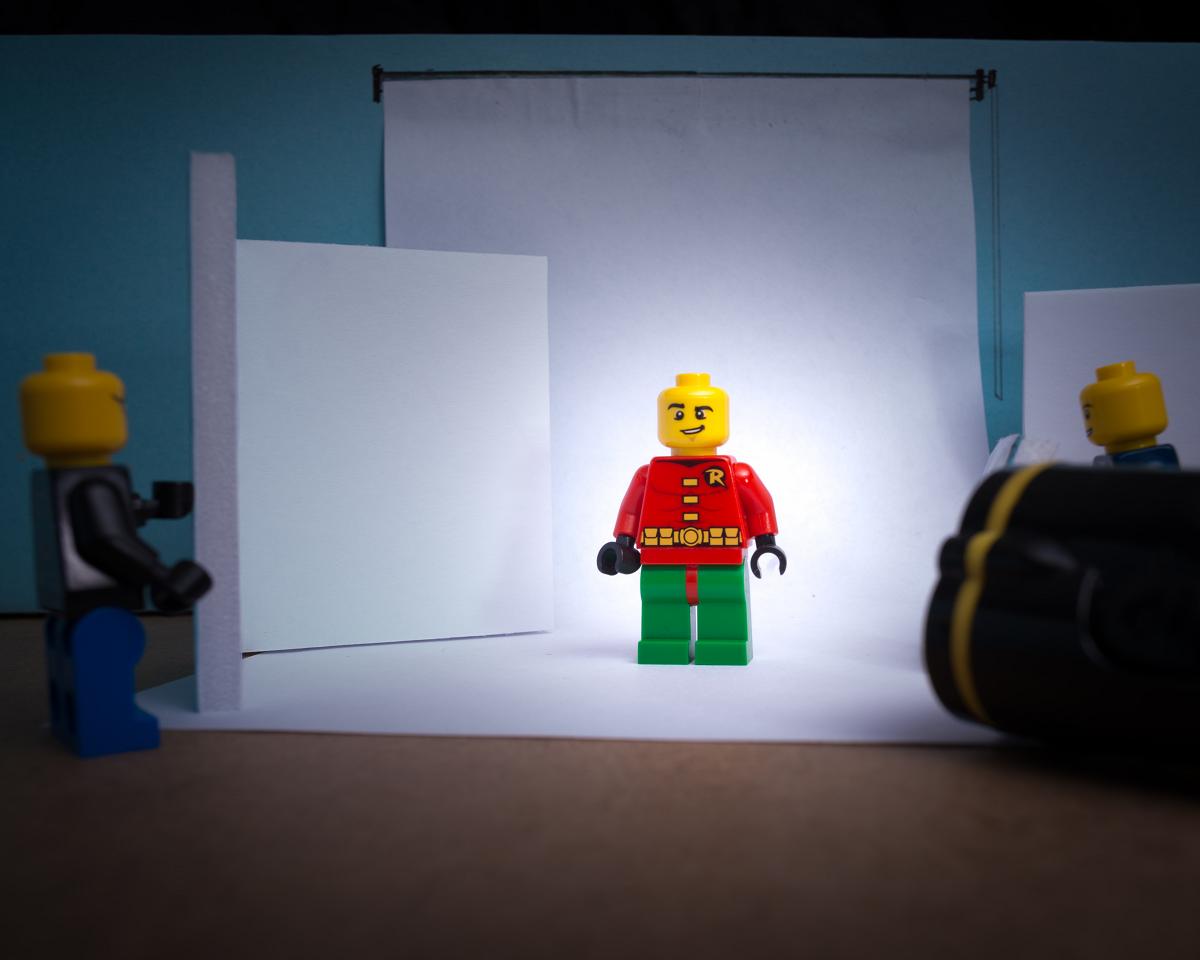 I think I achieved a result as a very punchy high key shot really pulls out the red and green.  Speaking with Robin he was very keen with the idea of punchy.  His comment was; "Holy chromatic aberrations!.....so is it me; or are crooks getting lamer as we go?"  I really did not get it, but below is my post-processed image using just Lightroom.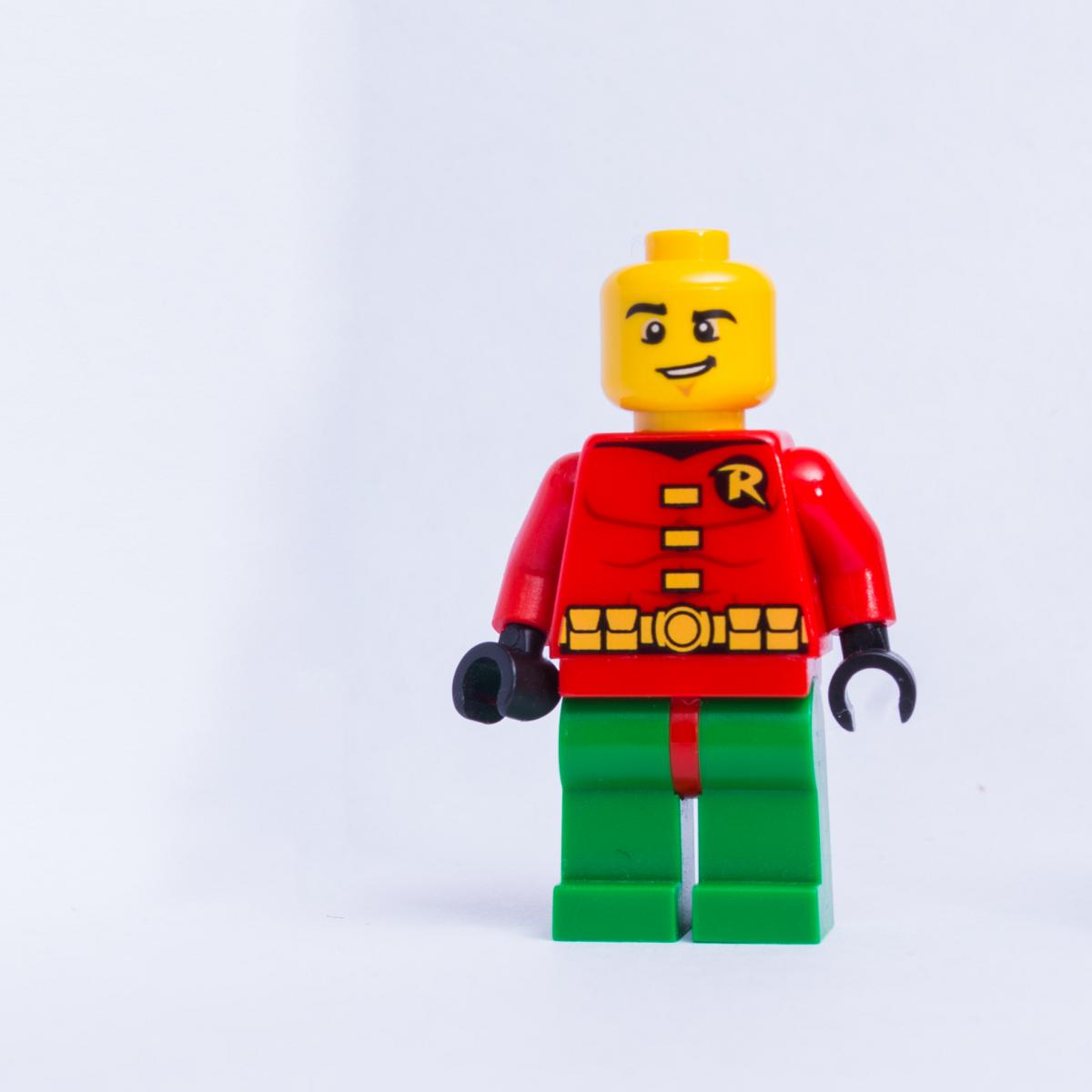 For the second setup, I decided to rig up my usual lighting setup to create shadow and dimension.  I think that this is a particularly good set-up that I use for creating a more three dimensional look.  Forgive me Peter Hurley, you are a good guy and all that but, I just do not like the flat light.  Tell me honestly, has anyone ever see anyone, anywhere, ever that is lit like that.  It's just freaky.  
I pulled the light back and using down angle to generate a harder light.  The harder light generates more interesting shadow on the body and throws a shadow onto the backdrop.  
I am fairly pleased with the result.  We all agreed that the shadow and depth in the image added a certain macho quality to Robin.  We were so pleased to have a client to work with at these difficult times. 
In departing, Robin reminded us that "It is the duty of every good citizen of Gotham City to report meeting a man from Mars in a public park"  which we thought was a good time to call it a wrap.
Thank you to the good folks of LEGO® and to the creative expertise of Artist Bob Kane and Writer Bill Fingers of DC Comics for bringing us Batman and Robin.