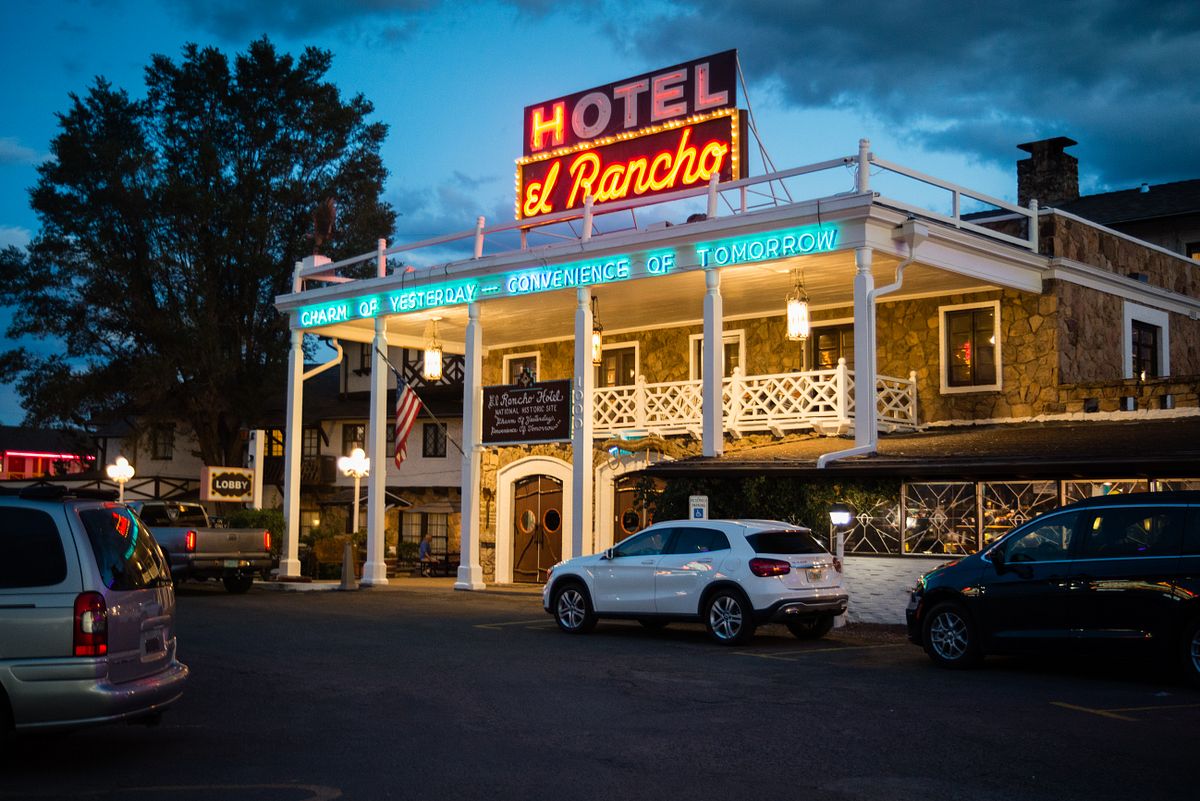 Time for Nostalgia
Considered to be the central operations hub of the Western genre movie industry, the El Rancho is still making guests comfortable. The decline of Westerns has changed the purpose of the hotel, but it has certainly not lost its charm. The western movies represented the frontier pioneer and those fights of good versus evil, man verses nature, integrity, justice and of course the cowboy code. With green screens and CGI; space, imaginary lands and spectacular fantasy locations can be rendered onto our screens. The need to be in close proximity to so many variations of western landscape has diminished since the hotel's construction in 1936. With such rugged, diverse and majestic terrain at its doorstep, the backdrop for Westerns throughout the 30's into the 1950's made the El Rancho a production hub for Western movie production.
The production of movies was so prolific that R. Griffith, the brother of movie mogul D.W. Griffith, built the El Rancho Hotel to provide lodging for film crews and celebrities. Photographs, souvenirs and memorabilia adorn the hotel lobby, lounge and balcony of the celebrity guests and a bygone age. Certainly the 'A' list of Hollywood star guests is impressive. The hotel boasts some 158 movie star guests that worked on 116 films that were shot in the area. Names, names, names include; Ronald Reagan, Spencer Tracy, John Wayne, Katherine Hepburn, Marx Brothers, Humphrey Bogart, Doris Day, Kirk Douglas, Burt Lancaster, and Lucille Ball.
The decline of the Western movie genre altered the guest population from movie stars and crews towards welcoming the American traveller. The curious travellers arrived on route 66 throughout the 60's and 70's. I am sure that the Santa Fe railway also had influence as well as the significant trade for the area in native goods and art that has been so influential.
With significant maintenance issues and perhaps empty guest rooms, bankruptcy and demolition were on the cards. Having always dreamed of owning the property, Armand Ortega purchased the property in 1986. Armand Ortega, a well-known Indian trader, bought the hotel and restored it to its original luster. Armand Ortega died in 2014 and Shane Ortega, Armand's grandson, bought out his aunts' and uncles' share of the property in 2018.
Shane continues to improve, restore and renovate throughout the property. Keeping to the spirit and vibe of the original hotel. It is reported that the current renovations and restorations plan is a $6M investment in the property. Today, the hotel is a popular stop for Route 66 travelers, who can stay in rooms named for movie stars who were guests before them. The El Rancho was listed in the National Register of Historic Places in 1988.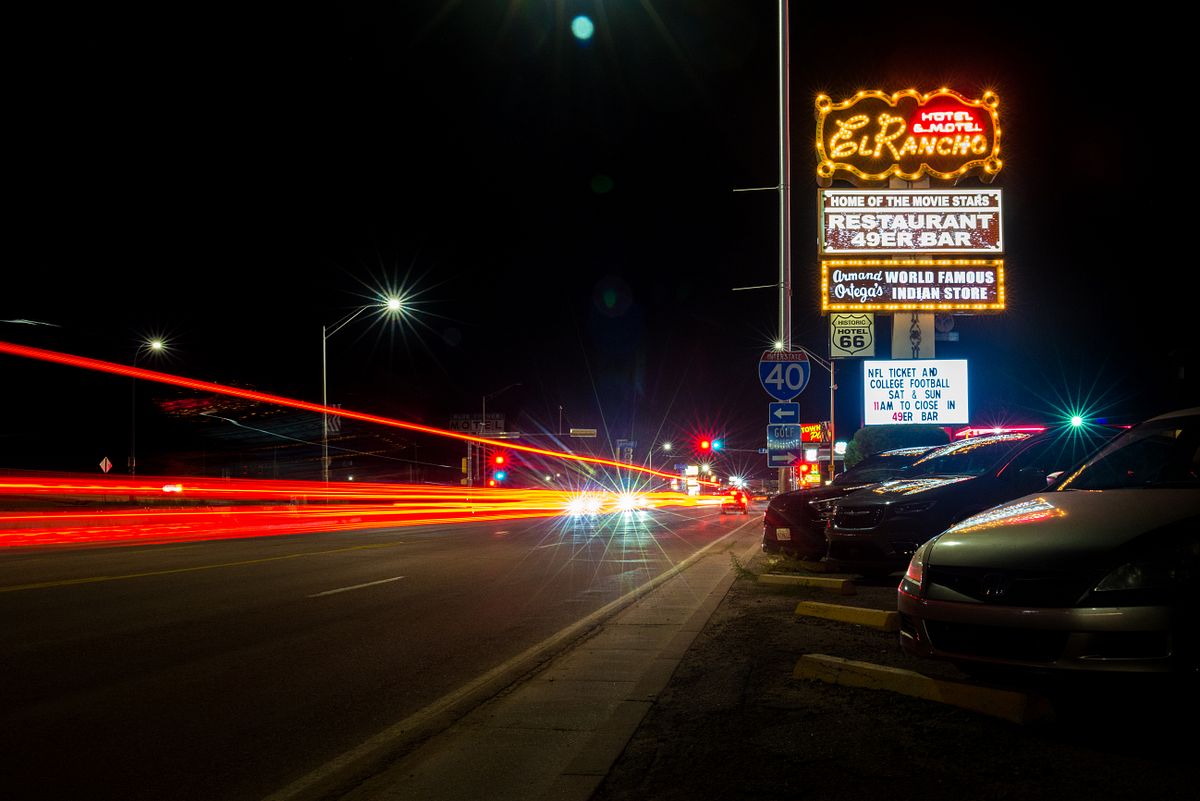 So, what's it like?
So having postulated over Route 66 for so many years. Staying at the El Rancho was not optional. The neon, the history, the kitch were all part of the romance of the place for me. For me, there is a balance between the history of the place, the connection with Route 66. Just enough Hollywood, desert, rock, neon and cars that just made it a package. It did not disappoint.
You step through the door into another world. The large fireplace lounge, the woodwork and couches are all very inviting. The reception staff were very welcoming and the process of getting a key short and simple. Like having a key. Call it an age thing if you must but I think that a key is limited. There are probably a couple of guest keys for the room and then there is a limited set of master keys for housekeeping and front of house staff. Those plastic keys can be reproduced instantly for as many of those plastic cards the hotels have. What data can a proper key keep about your movements, nothing. I digress. I had a second-floor room looking out to the front of the hotel. It was hot outside and the room temperature was great. The aircon was not loud or obtrusive in the room which is really important for me. I hate those under-the-window aircon units that just grind it out all night that you find in many hotels. The bathroom was compact for sure however, for me it had everything that I needed and it all worked great. I had reserved a small room as I am just one person. I am sure that larger rooms are available. No bathtub (I never take a bath anyway), just a good size shower with good water pressure and temperature. Very nice after a day playing in the rocks and desert. Bedroom size was great. Enough room for me and my luggage and not tripping over anything. Bed was fantastic. Really great mattress and linens. I had an amazing sleep and was not woken by hotel or road noise. There is a great deal to look at in the hotel. The pictures, posters etc. are all very cool. It was great to explore both inside and outside the hotel. The shop has a lot of merchandise including art and jewelry.
I have one comment or complaint if you like. I did stroll into the 49er Lounge for a beverage. The bartender was very busy clearing and putting away. When ready, her head popped up and glanced at me she said "last call". I looked at my watch and it was 9:40pm. I guess that my expectations were a little off. I asked for a draft beer whereby a finger waved in the general direction of the beer taps that were obscured from my view. Nice that there was a selection, just unfortunate that I had no idea what any of the beers were and clearly I was not going to be educated. I am not sure how it was selected but I did manage a beer (should have ordered a couple of Scotch's at the same time). Overall, I think that the lady was a little gruff, impatient not social and clearly looking to leave asap. I consider this to be the antithesis of a good bartender. My comment here is that everyone can have a bad day and this is only one encounter and this could have been the day when a lot of bad crap was happening in this persons life, I get it. I do have a hard job getting my thirteen-year-old son in bed before 10pm and I normally think that bars are open way past his bedtime. I do think that this is a very early closing time. The couple that was seated at the bar looked disappointed but the couple that came in after me were really bummed out as they left unsatisfied. The cost of the beverage, the atmosphere etc., all pointed to being unwelcomed.
My thoughts are that perhaps lowering the markup so that more patrons would be willing to sit in the lounge and bar with a beverage would be a good thing. This can include teas and coffee also as bars can serve that stuff also. Most travellers are looking for some stimulation from social conversation and stories of travel from strangers that have just met. Eye watering prices force many to hide away in their rooms with there own company. Ridiculously all these customers are bringing in their own beverages and snacks. How is this not potentially a huge loss in revenue? Is it wiser to make $2 out of 10 people then $10 out of 1 person? How does this build the happy memories and therefore more return customer. I believe that food and beverages are cheap to give in the short term to build long term connections and repeat business. But, what do I know.
With all that said, the El Rancho was an experience that I looked forward to for years and did enjoy. The sleep was fantastic and I can clearly see that the restoration and renovations are improving the experience and keeping the property up-to-date. The updates are all going in the right direction. I would recommend my friends and family to stay. I feel that improvements could be made in the food and beverage department, but that is just my consumer perspective. Hopefully I will get an opportunity to revisit the El Rancho in the future.
The El Rancho is at 1000 E Hwy 66, Gallup, NM 87301, United States
The opinions shared are based on my own experience and your experience could be the same or different. Take time to do your own research to see if this is right for you. I was not paid or sponsored by anyone, including the El Rancho hotel to stay at this location. It was an independent choice and my stay was funded from my personal account.